Well known Christian leaders today remind people that we're not on earth to sustain America, but to serve God and His kingdom. It's true. How does that thought change evangelistic efforts right now? Does it stop parents in churches from thinking about how they will educate their children? Does that mean ignore the deluge of sewage that comes through the media and the easy accessibility to it? What if your people don't have a job because the economy is shot? If the church budget shrinks, what does that do to mission support? When you go to plan your week, how will you do church with the shut down or new regulations? How is hospital visitation? How does your church relate to the fast downward slide of Christianity? How will your church relate to "wokeness"?
There are at least two countries right now. One country thinks there was fraud in the election even if no one hacked the computer voting systems. Ballot harvesting, a modern kind of stuffing the ballot box in the age of Covid-19, isn't "voting." I'm not going to review all the other issues. One country covers this. The other doesn't. One calls the election and titles someone president-elect and moves on. The other says that counting only legal votes, he won in a landslide. Both cannot be true. One says the Biden family enriched themselves all over the world and are owned by the Chinese. The other just ignores that. One says Trump was a Russian agent and the other says the government spied on a political campaign. These cannot both be true.
One side says they want the liberty to label someone a Sodomite and call that activity sin. A high percentage of the other sides says they want that speech to be illegal and punished. One side wants to treat transgenderism as legitimate, legal, protected, and promoted through affirmative action. Let's put transgenders in positions of authority among other affirmative action. That same side wants to keep killing babies. The other side wants both of those last two eliminated. I'm not going to keep going. It would be a book length treatment to characterize the two countries.
To obey the Bible in this culture, a church must take a stand against what is happening not only in the culture, but also in other churches. In this country, that also means attempting to do something about it. This is part of being salt of the earth. Salt in Matthew 5:13-16 is mainly a preservative. That doesn't mean that the church stops being the church, but the church still must stand against sin. It must not allow sin and false doctrine in the church, but it also much stand up against it in the culture. If not, what's going to happen is that very soon, people are going to be in jail and starting a new prison ministry.
Any one of us can gladly and happily say that we would welcome a prison ministry and call on the Apostle Paul as an example. The world was already deeply in that condition when Paul began. Starting in the 16th century, the world began to change. True Christians were still being persecuted and killed in Europe, but that was changing. Then a boatload of Christians came to the new world and that impacted everywhere. Wouldn't you say that they weren't ignoring the country to serve God and the kingdom? The two went together. That move that culminated on November 11, 1620, just over four hundred years ago, made a lot of difference to our world history in the proceeding exactly four centuries. Would you agree that we're at the precipice of just throwing that away or at least allowing it to disappear?
The way to preserve freedom that would allow for continuation of biblical church activity is not by ignoring differences and learning to get along with them. One of the two sides will not allow for that. Getting along will mean subjugating biblical teaching and practice to their views. Maybe you think it would be good for the church to go underground. Pastors and other church leaders preparing their people for persecution and operating underground is not just ignoring the country to serve God and the kingdom. We're already to a place where these forces cannot be ignored. We're not there yet, but I'm writing here saying that we're close to that and we should try to postpone it at least.
Both postponing the loss and then total loss of freedoms necessary for a church to function according to scripture can be done while participating in a wholesale obedience to biblical church life. All the evangelism, discipleship, edification, building, worship, discipline, and growth can occur at the same time as attempting to defend freedom. Capitulation should not be a strategy. Biblical principle can be relied upon to do both. If we're going to pray that we can live peaceable lives (1 Timothy 2:1-2), then we should do everything we can do to live those lives. Faith without works is dead.
Priorities should be kept. The church should still be the church. It isn't the government. The church, however, should not sit back and try to remain neutral and straddle both countries. That's what I see John Piper, Tim Keller, Mark Dever, most of the Southern Baptist Convention, the Calvary Chapel type of churches, almost all of evangelicalism, and now much of fundamentalism doing. Warnings come from pseudo-Christians that we won't be a good enough testimony to evangelize if we support one side in the culture war. They long ago capitulated to the culture in numbers of ways and are attempting to write a theology into the Bible that fits with their compromise. They think that is the best future, because a bridge will still exist to one of these two countries to bring them into the church.
Every time I write something about the subject matter of this post, I get attacked by multiple anonymous commenters ridiculing me and attacking me as misrepresenting Christianity. This is the "love is love" crowd. This is the Christianity of the leftist value sign. They attempt to create an environment of fear that will scare someone from saying anything. Virtually all of the Bible clashes with one of the two countries that exist. Much of the Bible also clashes with most of the other country too, but the second one of these two would like to allow someone still to keep and preach all of the Bible. Much of this side still thinks absolute truth should exist. That's where we're at right now.
What can we do? We must do all the normal things, like vote, speak out, write, even give money, and show support for the right side. I don't know what else is going to be necessary. Right now, when you are threatened by someone and insulted, you can't let that stop you from your support of the right side. Some are using the "S" word, secession. I don't know how that will occur. It wouldn't be the secession of states likely, but the secession of counties. You've seen the red map.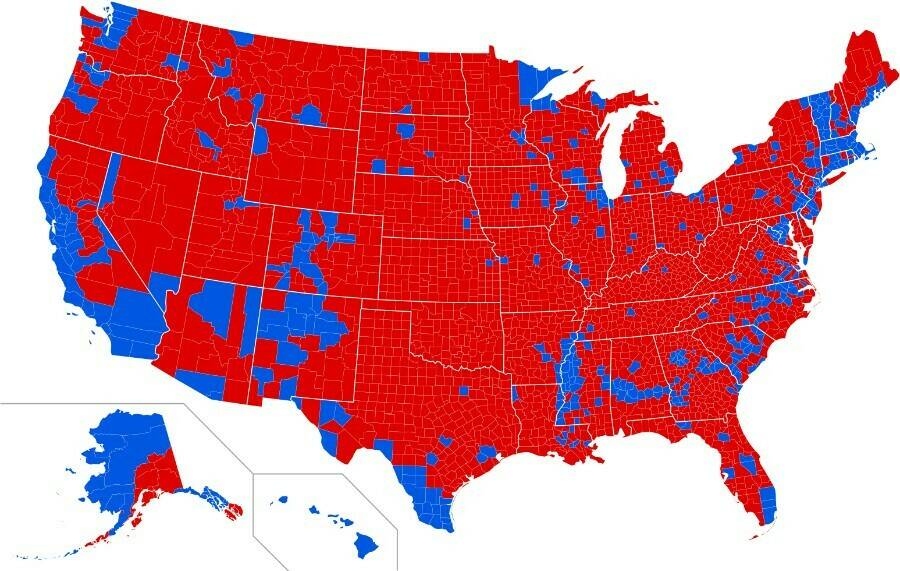 The red part and the blue part each has two very different views of the world. Sure, the red people live in blue parts and blue people live in red parts. That will likely continue. However, the sides are so separate, I believe two countries are necessary now. The two views and even two countries can't coexist. I know one of them doesn't want to allow the other to exist, just look at Portland, Seattle, and Minneapolis. I don't know how this split is going to take place, but true Christians should be prepared to know what they will do, depending on how it's going to occur.
Let me give you a thought experiment. Let's say that Texas wins this lawsuit against the four swing states that didn't follow their own election law, violating the Constitution. In other words, let's say that the Supreme Court turns the election to the legislatures of Georgia, Pennsylvania, Michigan, and Wisconsin, which happen to all four be Republican majority. All four of them choose Trump electors. Trump wins, because that's enough to give Trump 270 plus electors. Do you think violence will result? Should the Supreme Court ignore the Constitution because it knows that violence will occur?
The blue media is just calling the Texas lawsuit crazy. Haven't you heard that argument before? Anti-abortion just crazy. Pro-boundary crazy. Anti-transgender crazy. If not crazy, then wacky conspiracy theorists, who are overturning an election and disenfranchising inner city voters. This is a right wing coup, that kind of thing. These are the Russion hoaxers speaking. They say a girl can be a boy and vice versa. That's the country they envision. They defend a man wearing a poofy woman's gown as normal.
I think the Texas lawsuit is legitimate. I believe they are right. The left isn't saying they are not giving a good legal or Constitutional argument. The left is just saying they are crazy. If the Supreme Court is still too woke to vote according to the meaning or writing of the Constitution, its actual text, what does the red side do? Do they just be super nice and let it go. They know what happened. Their side was too scared to vote according to the law. What will this mean? This seems like a precipice to me.
I don't mind being an evangelist in a blue region. However, I don't want the country by necessity to become blue. It shouldn't. Churches can't and shouldn't ignore this. They can tell their people the truth and that's not being a "bad testimony," something we're being told by woke evangelicals, because they think that will work. When I'm out preaching the gospel, politics themselves do not enter in. It doesn't relate to that.
We need to know that serving the kingdom or working at protecting liberty isn't binary. Yes, that word, binary, is useful here. We can keep these two thoughts in our brain at the same time, not disparate. They are connected thoughts. We can defend from scripture keeping this two ideas in our heads at the same time. When someone mocks us or attacks us, we don't have to capitulate to "be a good testimony." That's just a strategy on their part. They've studied us and think it will work. They know how we tick. Don't listen to it. It's a lie.