Do Hyles-Anderson College and First Baptist Church of Hammond, Indiana, please God?

Hyles-Anderson College, of course, receives the first part of its name from the late Jack Hyles.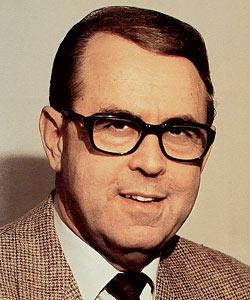 Jack Hyles preached a false gospel. The Bible says:
Therefore say unto the house of Israel, Thus saith the Lord GOD; Repent, and turn yourselves from your idols; and turn away your faces from all your abominations. . . . But if the wicked will turn from all his sins that he hath committed, and keep all my statutes, and do that which is lawful and right, he shall surely live, he shall not die. . . . Have I any pleasure at all that the wicked should die? saith the Lord GOD: and not that he should return from his ways, and live? . . . Therefore I will judge you, O house of Israel, every one according to his ways, saith the Lord GOD. Repent, and turn yourselves from all your transgressions; so iniquity shall not be your ruin. Cast away from you all your transgressions, whereby ye have transgressed; and make you a new heart and a new spirit: for why will ye die, O house of Israel? . . . Nevertheless, if thou warn the wicked of his way to turn from it; if he do not turn from his way, he shall die in his iniquity; but thou hast delivered thy soul. . . . Say unto them, As I live, saith the Lord GOD, I have no pleasure in the death of the wicked; but that the wicked turn from his way and live: turn ye, turn ye from your evil ways; for why will ye die, O house of Israel? (Ezekiel 14:6; 18:21, 23, 30-31; 33:9, 11)
Ezekiel is calling unconverted Israelites to salvation, not simply calling backsliders among the true people of God to live up to their privileges. Ezekiel calls the Israelites to enter into the promises of the New Covenant of a new heart and a new spirit (Ezekiel 36:25-27). Similarly, the fact that Ezekiel calls on the "wicked" to turn from his evil ways proves that the prophet exhorts the lost to turn from their sins in order to be saved. Ezekiel never employs the word "wicked" for a saved person (3:18–19; 7:21; 13:22; 18:20–21, 23–24, 27; 21:3–4, 25, 29; 33:8–9, 11–12, 14–15, 19); he uses the word for lost people, such as the idolatrous Babylonians who destroyed the Jerusalem temple (7:21). Indeed, not one of the 264 references to this Hebrew word for "wicked" in the Old Testament is clearly to a saved person—the wicked are uniformly those headed to damnation, who are "turned into hell" (Psalm 9:17) under the curse and wrath of God, in contrast to those who trust in the Lord, (by grace) are righteous, and receive salvation (Genesis 18:23, 25; Exodus 2:13; 9:27; 23:1, 7; Numbers 16:26; 35:31; Deuteronomy 25:1–2; 1 Samuel 2:9; 24:13; 2 Samuel 4:11; 1 Kings 8:32; 2 Chronicles 6:23; 19:2; Job 3:17; 8:22; 9:22, 24; 10:3; 11:20; 15:20; 16:11; 18:5; 20:5, 29; 21:7, 16–17, 28; 22:18; 24:6; 27:7, 13; 34:18, 26; 36:6, 17; 38:13, 15; 40:12; Psalm 1:1, 4–6; 3:7; 7:9; 9:5, 16–17; 10:2–4, 13, 15; 11:2, 5–6; 12:8; 17:9, 13; 26:5; 28:3; 31:17; 32:10; 34:21; 36:1, 11; 37:10, 12, 14, 16–17, 20–21, 28, 32, 34–35, 38, 40; 39:1; 50:16; 55:3; 58:3, 10; 68:2; 71:4; 73:3, 12; 75:4, 8, 10; 82:2, 4; 91:8; 92:7; 94:3, 13; 97:10; 101:8; 104:35; 106:18; 109:2, 6–7; 112:10; 119:53, 61, 95, 110, 119, 155; 129:4; 139:19; 140:4, 8; 141:10; 145:20; 146:9; 147:6; Proverbs 2:22; 3:25, 33; 4:14, 19; 5:22; 9:7; 10:3, 6–7, 11, 16, 20, 24–25, 27–28, 30, 32; 11:5, 7–8, 10–11, 18, 23, 31; 12:5–7, 10, 12, 21, 26; 13:5, 9, 17, 25; 14:11, 19, 32; 15:6, 8–9, 28–29; 16:4; 17:15, 23; 18:3, 5; 19:28; 20:26; 21:4, 7, 10, 12, 18, 27, 29; 24:15–16, 19–20, 24; 25:5, 26; 28:1, 4, 12, 15, 28; 29:2, 7, 12, 16, 27; Ecclesiastes 3:17; 7:15; 8:10, 13–14; 9:2; Isaiah 3:11; 5:23; 11:4; 13:11; 14:5; 26:10; 48:22; 53:9; 55:7; 57:20–21; Jeremiah 5:26; 12:1; 23:19; 25:31; 30:23; Ezekiel 3:18–19; 7:21; 13:22; 18:20–21, 23–24, 27; 21:3–4, 25, 29; 33:8–9, 11–12, 14–15, 19; Daniel 12:10; Micah 6:10; Habakkuk 1:4, 13; 3:13; Zephaniah 1:3; Malachi 3:18; 4:3).
Similarly, the New Testament commands the lost to repent of their sins. The New Testament warns those who do not "repent of their deeds" that they will enter "into great tribulation" (Revelation 2:22). That is, those unsaved people who do not "repent of their deeds" will miss the Rapture and enter into the "great tribulation" (Revelation 7:14; Matthew 24:21) with the rest of the unsaved, those who "repented not of the works of their hands, that they should not worship devils, and idols of gold, and silver, and brass, and stone, and of wood: which neither can see, nor hear, nor walk: neither repented they of their murders, nor of their sorceries, nor of their fornication, nor of their thefts" (Revelation 9:20-21), those who "blasphemed the name of God . . . and . . . repented not to give him glory. . . . blasphemed the God of heaven . . . and repented not of their deeds" (Revelation 16:9, 11).
While all of the above is very clear from Scripture, Jack Hyles taught exactly the opposite.

Mr. Hyles taught that the lost only need to repent of unbelief in order to be saved:
What keeps a person from seeing life? Believing not! What makes the wrath of God abide on a person? Believing not! So, from what must a person repent in order to be saved? He must repent of that which makes him lost. Since "believing not" makes him lost, "believing" makes him saved. In repentance there is a turning from the thing that keeps him from being saved to the thing that saves him. So, yes, there is a repentance from unbelief in order to believe. . . . In order to believe, you have to repent of unbelief. That which makes a man lost must be corrected. . . . There are those who say we have to repent of our sins in order to be saved. No, we have to repent only of the thing that makes us unsaved, and that is unbelief. . . . There are those who say we have to repent of our sins in order to be saved. No, we have to repent only of the thing that makes us unsaved, and that is unbelief. (Jack Hyles, Enemies of Soulwinning, "Misunderstood repentance: an enemy of soulwinning")
Scripture teaches that belief also involves surrender to Christ as Lord:
Deissmann in Light From the Ancient East gives several convincing quotations from the papyri to prove that pisteuein eis auton ["believe in/on," the most common Greek phrase for saving faith in the New Testament, John 3:16, etc.] meant surrender or submission to. A slave was sold into the name of the god of a temple; i. e., to be a temple servant. G. Milligan agrees with Deissmann that this papyri usage of eis auton is also found regularly in the New Testament. Thus to believe on or . . . into the name of Jesus means to renounce self and to consider onself the life-time servant of Jesus." (A Manual Grammar of the Greek New Testament, H. E. Dana & Julius R. Mantey. New York, NY: MacMillan, 1955, pg. 105)
By contrast, Jack Hyles taught that saying one needs to receive Christ as Lord and Savior is a false gospel of works salvation:
Now exactly what is Lordship salvation? It is a doctrine embraced by some who say that one must receive Jesus Christ as Saviour and Lord in order to be saved. A careful took at this doctrine will show that it is really nothing more but salvation by works rearing its ugly head. (Jack Hyles, "Salvation is More than Being Saved," Chapter 11)
Jack Hyles's rejection of Biblical repentance explains why his religious organizations have 99%+

false professions in their widely publicized "soulwinning" statistics. When I was a student at Fairhaven Baptist College, when Hyles-Anderson and First Baptist would have their "Big Days," they would attract many children to their services by turning God's house into a worldly carnival, lead the children to say

the "sinner's prayer" (although salvation is by repentant faith, not by repeating a "sinner's prayer")

and then baptize them on the back of their church buses. I personally heard testimonies of the children, coming back to church with us a week after the big day at Hyles, having been led to say the magic prayer and having been baptized, and being just as lost as they were before--many children were baptized five, six, seven, or even double-digit numbers of times. Hyles-Anderson would claim

thousands and thousands of people were saved when they were manipulated into repeating the "sinner's prayer"

but 99%+ were made two-fold children of hell and showed no fruits of repentance (Matthew 3:8). For example, on

May 3, 1998 Hyles claimed over 15,000 people were saved, and they baptized over 5,000 people

, but

zero of these people joined the church that day, and a very, very tiny percentage ever joined it

.
In light of Jack Hyles's false gospel, it is not surprising that he affirmed many other heresies, including:
Christ was human from all eternity: "Jesus Christ . . . did not become human when He came to Bethlehem. He's always been human."

Jack Hyles's good works helped his father in hell.

Fallen man is not human and does not have a spirit.

It was good for Adam and Eve to sin.

All men are "mental homosexuals" and the only difference between someone who has committed adultery and one who as not is that in the latter the sin of adultery was "in remission."

"It wasn't God the Father that forgave; the Man, the human Christ Jesus, forgave."

Hyles would pray to the dead, asking his dead mother to help and intercede on the big days when they would use extra salesmanship to manipulate more people into repeating the "sinner's prayer." (See The Hyles Effect-A Spreading Blight, by David Cloud, pgs. 23ff.; hear audio of Hyles teaching the heresy of the eternal humanity of Christ in the message "Why I am not 100% for Jack Hyles" by Roger Voegtlin here; also see here.)
It would not be surprising in the least if the demons who, unlike Jack Hyles's mother, actually could hear and answer Mr. Hyles's prayer, were very active on their "big days" while his congregation was deceiving people into thinking they were saved because they repeated a magic prayer and baptizing thousands of lost people.
In light of his teaching on all men being "mental homosexuals" and those who were not adulterers simply being those with adultery "in remission," it is sad but not surprising that

overwhelming evidence proves that Jack Hyles committed immoral acts

. Nor is it surprising that his son, Dave Hyles, was a sexual monster; nor that many other leaders at First Baptist of Hammond were adulterers; nor that the pastor of First Baptist after Hyles, Jack Schapp, was a child molester who was sentenced to prison for twelve years.
The current senior pastor at First Baptist of Hammond, which still runs Hyles-Anderson College, is John Wilkerson.
Pastor Wilkerson has done some good things at First Baptist of Hammond. Unlike Jack Hyles, Mr. Wilkerson does not quote a verse at the beginning of a message and then just say stuff without ever referring to the Bible again. Furthermore, there is no evidence that Mr. Wilkerson is a child molester like the previous pastor, Mr. Schapp. That is great. Also, Mr. Wilkerson does not seem to be full of pompous boasting but appears to be humble. That is very good. Also, Mr. Wilkerson does not appear to believe some of the most bizarre stuff that Jack Hyles taught; he is not teaching the eternal humanity of Christ, teaching that all men are "mental homosexuals," and so on. There is no evidence that he follows Hyles in praying to the dead. Nor is there any evidence that Mr. Wilkerson has been immoral and disqualified himself from the ministry the way Jack Hyles was immoral and was disqualified from the ministry. All of the above is good and a vast improvement from the hellish evils under Hyles and Schapp.
However, John Wilkerson has not led First Baptist of Hammond and Hyles-Anderson to reject Jack Hyles's false gospel. The heretical books by Jack Hyles quoted above, where Biblical repentance is called an "enemy of soulwinning" and saying one must receive Christ as Lord and Savior is (allegedly) works salvation, are still on sale in their bookstore, as are resources by Jack Hyles on how to do salesmanship soulwinning, and so on. Of course, nothing defending the Biblical gospel or Biblical repentance is for sale. When Mr. Wilkerson gives someone his idea of the gospel on the First Baptist website,

he completely omits the word and the idea of Biblical repentance but says that one must do two things, believe and then say the sinner's prayer in order to be saved

. The

Hyles-Anderson doctrinal statement

says nothing about repentance, leaving out the word and the idea from how the lost must be saved. The

mission agency run by First Baptist of Hammond, most improperly called "Fundamental Baptist Missions International," totally omits both the word and the idea of repentance in its doctrinal statement about salvation

, rejecting what

Baptists have historically believed about repentance and the gospel.
I am glad a woman does not need to be afraid if she crosses paths with Mr. Wilkerson alone in a dark alley at night. That's great. It is also true for many faithful Mormons, members of the Watchtower Society, Catholics, and atheists. Mr. Wilkerson has not repudiated the false gospel preached by Jack Hyles, but continues to promote Jack Hyles and his false gospel.
Furthermore, corporate repentance involves acknowledging corporate guilt. Consider the prayer of Nehemiah:
And said, I beseech thee, O LORD God of heaven, the great and terrible God, that keepeth covenant and mercy for them that love him and observe his commandments: Let thine ear now be attentive, and thine eyes open, that thou mayest hear the prayer of thy servant, which I pray before thee now, day and night, for the children of Israel thy servants, and confess the sins of the children of Israel, which we have sinned against thee: both I and my father's house have sinned. We have dealt very corruptly against thee, and have not kept the commandments, nor the statutes, nor the judgments, which thou commandedst thy servant Moses. ... (Nehemiah 1:5-7)
There has been no corporate repentance for the sins of Jack Hyles and First Baptist. They still have the name of this immoral man on their college--it is still "Hyles-Anderson College." It still has its "

Jack Hyles Memorial Auditorium

." It still promotes the books and videos of Jack Hyles. It still produces videos saying Hyles was a great man, covering up his immorality, covering up his heresies, covering up his culture of corruption that filled First Baptist Church and Hyles-Anderson College with adultery.
First Baptist Church and Hyles-Anderson College still promote Jack Hyles--they still promote the man, they still promote his false anti-repentance "gospel," and they still cover up his well-documented immorality and wickedness.

They still seek to spread the influence, the books, the sermons, and the teachings of Jack Hyles to the ends of the world.
In Revelation 2-3 Christ called on disobedient churches and their pastors to repent. If First Baptist of Hammond takes the name of Jack Hyles off from their college, publicly rejects and warns about Jack Hyles's false gospel, stops selling Jack Hyles's heretical books, stops covering up his immorality and admits he was disqualified from the ministry both for his own sins and those of his son (1 Timothy 3), renames its Jack Hyles Memorial Auditorium, cries out to God for mercy for the millions of people now in hell whom its members and others it has influenced with its wicked pseudo-soulwinning philosophy around the world have led into false professions, and is honest about its past, then we could conclude that perhaps, based on Revelation 2-3, Christ is now pleased with First Baptist of Hammond. Until then, no--no way.
If you fellowship with First Baptist Church of Hammond, Indiana and Hyles-Anderson College, don't fool yourself.

You are not pleasing Jesus Christ.

Christ did not say to cover up well-documented sin in people who are "big shots" and pretend it never happened. On the contrary, He commanded in His Word: "Them that sin rebuke before all, that others also may fear. I charge thee before God, and the Lord Jesus Christ, and the elect angels, that thou observe these things without preferring one before another, doing nothing by partiality" (1 Timothy 5:20-21).
Don't fool yourself into thinking you are helping people be saved either. Hyles-Anderson is just the excuse the world needs to think that all this Baptist and Bible talk about being holy and God changing people's lives is just fake, externalist hypocrisy.

When Baptists allow Hyles-Anderson and First Baptist staff into their pulpits after the church and college just sweep Hyles's immorality under the rug without repentance, they are telling the world that Christianity is fake, just like Hyles's "gospel," "soulwinning," and spirituality were fake.
Unless there is real repentance at Hyles-Anderson, it has well been said: